Can a budding labor movement improve the lives of non-tenured faculty—and, in the process, fix higher education?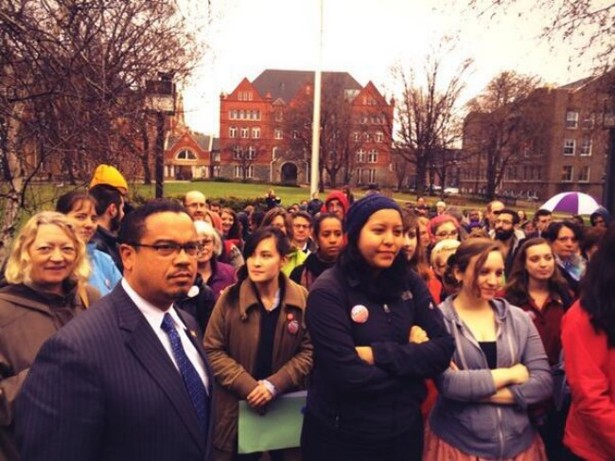 Mary-Faith Cerasoli has been reduced to "sleeping in her car, showering at college athletic centers and applying for food stamps," The New York Times recently reported. Is she unemployed? No, in fact, she is a college professor— but an adjunct one, meaning she is hired on a short-term contract with no possibility of tenure.

A spate of research about the contingent academic workforce  indicates that Cerasoli's circumstances are not exceptional. This month, a report by the American Association of University Professors showed that adjuncts now constitute 76.4 percent of U.S. faculty across all institutional types, from liberal-arts colleges to research universities to community colleges. A study released by the U.S. House of Representatives in January reveals that the majority of these adjuncts live below the poverty line.

Over spring break, Cerasoli publicly protested her working conditions on the steps of New York Department of Education wearing a vest emblazoned with the words "Homeless Prof" on it. Her efforts dovetail with a national labor movement in which thousands of adjuncts are fighting for change within the higher-education system. In the short-term, adjuncts are demanding a living wage, but they are also proposing long-term solutions to structural problems ailing universities. Many argue that the dependence on contingent labor is part of a larger pattern of corporatizing the university, which they believe is harming not just professors and students, but society more broadly.
 "While there are micro-tragedies in the lives of individual adjuncts, there is also a macro, systemic problem unfolding," said Adrianna Kezar, co-founder of theDelphi Project which examines how the changing faculty affects student success. Her data consistently shows that students who take more classes with adjuncts are more likely to drop out.

Kezar told me that this high attrition rate has nothing to do with the quality of instruction adjuncts provide; it is entirely a function of the compromised working conditions adjuncts face… MORE AT http://www.theatlantic.com/business/archive/2014/04/the-adjunct-professor-crisis/361336/